12 months ago I was chatting to my friend Eimear about how I would like to connect with more women since moving to Yanakie in July 2018. Eimear was telling me a story about
David and Stephen Flynn
, the twins behind the 
Happy Pear
 cookbook and the swimrise they began back in 2016 you can read more about it here
https://thehappypear.ie/swimrise/
Since moving to Yanakie I was ticking of the hikes at the prom and would go with whoever wanted to come along. I was loving it and sharing photos on my socials and had quite a bit of interest from people wanting to come along. So after chatting to Eimear about wanting to create a sense of community the monthly prom hikes were born.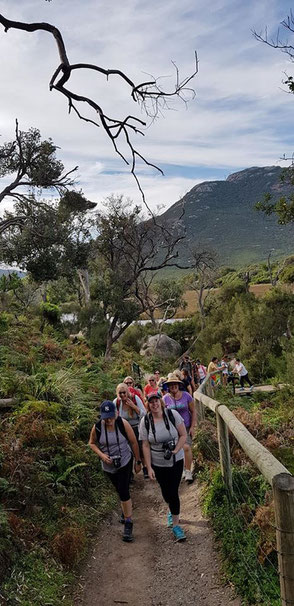 Our first hike was created as a facebook event and I had 250 people hit interested!! I was going to bring a thermos and a few cups to make cuppas for people and quickly changed my mind...
We had 16 women plus 2 children join us for our first hike in March 2019. It was so humbling to be with so many beautiful people. We shared a morning tea and it was decided that the hikes would continue monthly on the fourth Friday of the Month.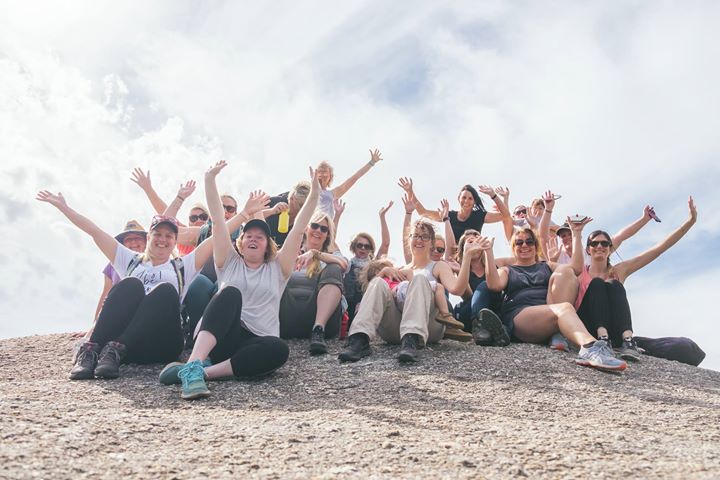 We completed 8 hikes in 2019 2 of them were kid friendly hikes during the school holidays. Numbers bounced between 8-12 most months and Tracey and I did all of them with many of the other 'regular ladies' doing most of them.
I can wholeheartedly say that so much is gained for each of the women who come on the hikes. Soulful conversations, 1:1 connections between everyone as we often walked in pairs and switched up who we were walking with throughout the hike. A bit of puffing, sweating, ooooing, aaaaahhhhhing, listening to bird song, taking in the amazing views, witnessing whales swimming out at sea, coming across wombats and wallabies, swapping of recipes as we sampled all the yummy morning tea treats after the hikes.
One thing I heard often on the hikes was how mum's in particularly do not take time out for themselves enough. A few mum's on the hikes have penciled the dates in their diaries as non negotiable because of how the hike makes them feel, and let me tell you it is not because of the huffing and puffing. It is because they make this time for themselves to connect with other women.
A few words from our monthly prom hikers
"I really enjoy the monthly prom hike and clear the calendar to make sure I can go I like the easy going banter and fantastic people I have met . Not to mention the spectacular views thanks Jess!" Tracey J
"The monthly prom hike has been a wonderful experience. I've loved joining a group of women who have taken the time to meet new people and exercise in a fun way! With new hikes every month, it was an adventure. Jess was a caring hike leader who made everyone feel welcome and nurtured, as only she can. I made sure to take time out and priorities them for the year, as I didn't want to miss out on one. Already looking forward to more hikes in 2020." Eimear M
Our hikes are continuing on the fourth Friday of the month in 2020.
Come along, come alone or bring a friend you are most welcome to join us we usually meet at the Yanakie Hall at 9:30am we all bring something to share for morning tea and carpool down to the hike.
We hope to see our regular hikers and new faces this year. 
See the hike dates below - save the image and pop them in your diary. You can also join our Monthly Prom Hike facebook group to stay up to date with our hikes, share photos and connect with our hiking community.
It's important to keep refilling your cup ~ so that you have much more to offer to everyone else in your life...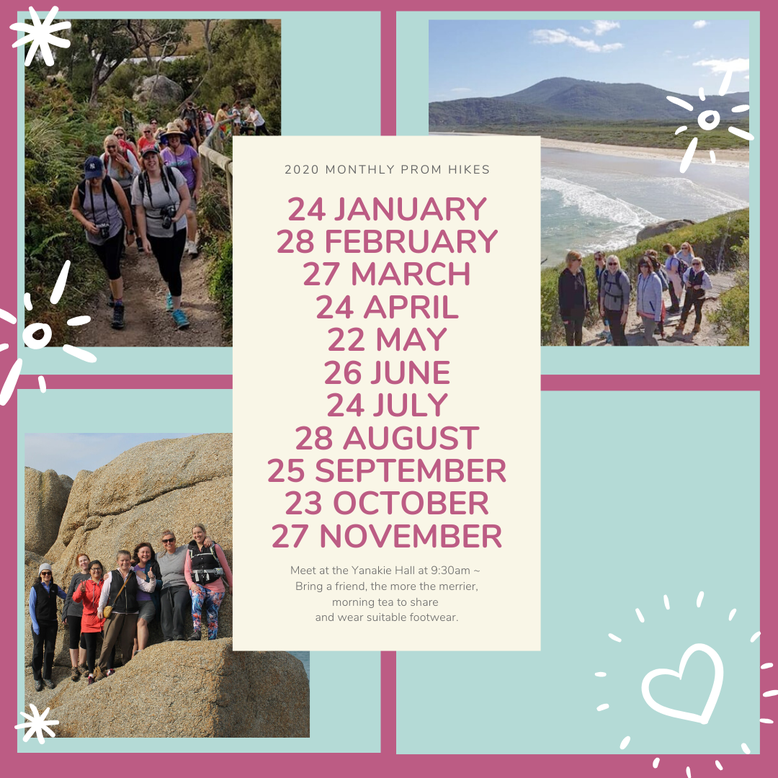 Special thanks to Eimear McNelis from Red Dirt Road and Kellie Robinson from Colour of Life Photograph for the photos. As well as the lovely ladies who hike with us for sharing the special memories they capture.